Flux Ducts Mod 1.10, 1.9.4, 1.9 adds a simple RF-compatible power conduit for use in Minecraft 1.8. The Redstone Flux API has not been officially updated to Minecraft 1.8. This mod was created primarily for use with Progressive Automation, which includes its own updated version of the API. This may or may not be compatible with other RF mods which may become available, but will be updated to the official API once that's released.

RF-per-tick is configurable via the config file, as is the number of ducts per crafting recipe. By default this is 320 RF/t, and 5 ducts per recipe.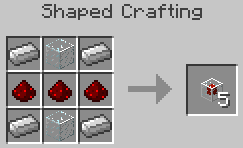 Flux Ducts Mod Installation:
First you need download and install Minecraft Forge.
Then download this Minecraft mod file at link below.
Go to %appdata%. It can also be found by searching for "%appdata%" in your start menu.

Go to .minecraft/mods folder.
If the "mods" folder does'nt exist in your PC, you'll need create one.
Then drag and drop the downloaded .jar (or .zip) file into mods folder.
Enjoy.
Download Flux Ducts Mod: