On Halloween night, a young kid named Tony puts on his Bert costume, a character from his favorite kids show Ernie & Bert from Sesame Street. Tony is just about ready to walk out the door and start trick or treating when he is stopped by his older sister Angela.
.
"Aren't you a little old to be wearing a Bert costume?" asked Angela.
"What do you mean?" replied Tony
"Well, that's a babies costume, your not a baby anymore are you?" asked Angela
"…..Noooooo…." cried Tony
"Then you need a costume a little more grown up and cool" said Angela
"Well…..I don't have another costume to wear" said Tony
"Don't worry, I have a great idea" said Angela
"I have a bad feeling about this" muttered Tony
"Way back in 1998, there was a Bert meme going around the internet, it was actually the original internet meme…the first of its kind. It was called Bert is Evil and it depicted Photoshopped images of an Evil Bert in different evil settings." Angela explained
"I see" said Tony
"So, I will get some makeup and turn your Bert costume into an Evil Bert costume, you will be the coolest kid on the block" said Angela
"Let's do it" yelled Tony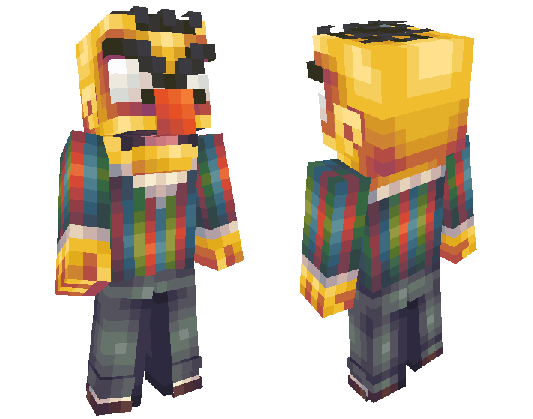 Bert is Evil Original Internet Meme Halloween Skin Installation:
Download Bert is Evil Original Internet Meme Halloween Skin
Go to https://minecraft.net/profile.
Log into your account and browse your skin then click upload image.
Play Minecraft and enjoy your new Skin.
Format: Minecraft 1.8+ Skin 64×64
Download Bert is Evil Original Internet Meme Halloween Skin