'Twas the night before X-mas, and all through the land,
Survivors took shelter from snow, wind, and sand.
The earth had been ravaged by huge nuclear wars,
But people felt safe locked behind their vault doors.
The children were nestled in protective beds,
While visions of atom-bombs danced in their heads.
Outside of my door there was such a great crash,
I feared that someone had discovered my stash.
I crept to the door and looked out the porthole,
And grabbed for the gun that I used on patroll.
The sight that I witnessed out there left me shocked:
an anti-grav sled pulled by eight command blocks!
With a little old driver who moved without pause,
I knew in a moment it was Atom-Claus!
He comes to bring presents to good girls and boys,
And fills their poor lives with distractions and toys.
All eight of the blocks beeped and blinked in their frames
And he whistled, and shouted, and called them by name:
"Now, Gamma! Now, Curie! Now Proton and Ion!
On, Geiger! on Half-Life! On Fission and Radon!
To the top of bunker! The top of the wall!
Now lift us up, engage thrust, fly away all!"
And I heard him exclaim, through his gas-mask, in flight –
"Happy X-mas to all, and to all a safe night!"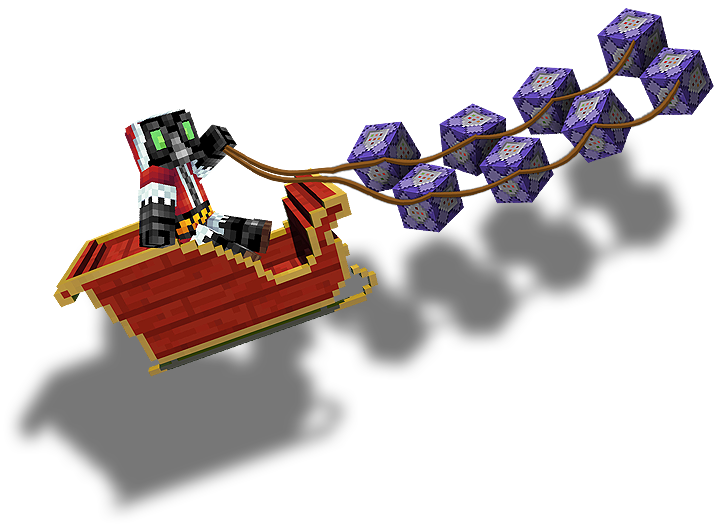 Atom Claus Skin Installation
Download Atom Claus Skin
Go to https://minecraft.net/profile.
Log into your account and browse your skin then click upload image.
Play Minecraft and enjoy your new Skin.
Format: Minecraft 1.8+ Skin 64×64
Download Atom Claus Skin